Records Storage Services in Austin
If your Austin organization produces thousands of paper documents that need to be kept safe, secure, and available, you have more options than storing everything onsite.
Offsite records storage facilities are designed to keep files safe, in pristine condition, and readily accessible.
What is Offsite Records Storage?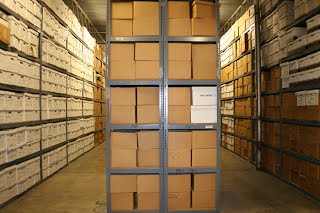 Depending on your provider, you can expect to find these features in an offsite document storage program in Austin:
24/7 Access
Document Delivery Services
Legal Compliance
Climate Control
Natural Disaster Protection
Records storage providers in Texas understand the need for companies to keep their documents safe. Certain industries have strict laws determining how companies handle the private information of customers and employees, and storage facilities ensure your documents are locked up and kept secure.
When you store your files at an offsite facility designed to store records, you are putting your files in capable hands. Storage facilities are climate controlled to protect the integrity of each and every file.
If you need access to documents stored offsite, most facilities offer 24/7 access, and many offer emergency delivery services as well.
Find an Offsite Records Storage Facility Near Your Austin Location
Ready to clean up your office and move your files offsite? Call us at (512) 410-0322 or fill out the form on the left, and we will help you find the best solution for your document storage needs.